Brighton & Hove City Council are donating up to 260 former BNT BikeShare bikes to communites in Africa
Delivery from Brighton & Hove City Council
We have been lucky enough to receive multiple deliveries from the team at Brighton & Hove City Council, vans full of bicycles and spare parts have been turning up throughout the week.
Overall there are nearly 260 former BTN BikeShare bikes that have been donated to Re-Cycle. This is the second and final batch of bikes from the old BTN BikeShare fleet that have been donated to charity.
"Now the cycles have reached the end of their time on the streets of Brighton & Hove, I'm pleased we have been able to make a further donation to charity to reduce waste. The old BTN BikeShare bikes have been tremendous servants to the city, covering more than four million miles since 2017, and it's great they'll be given a new lease of life. By redistributing the bikes globally, we're also showing that schemes like ours can be sustainable and innovative. We're doing everything we can to reuse, repurpose or recycle."

-Councillor Elaine Hills, Co-Chair of the Environment, Transport and Sustainability committee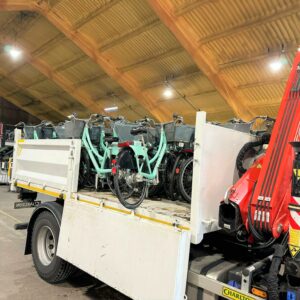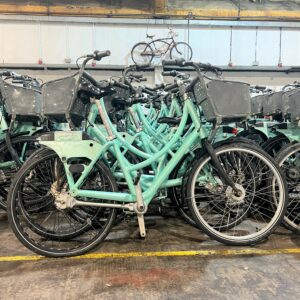 Prepped for Africa
These bikes have reached their end of life as BTN BikeShare bikes but they will now be sustainably re-cycled to change so many lives in Africa. They will be prepped by our team of volunteers, then loaded into our next container ready to be shipped to Africa.
Once they are received in Africa, they are distributed to the local community either through our trusted charity partners.
"We are very grateful to Brighton & Hove City Council for donating these bikes to Re-Cycle. They will help transform so many people's lives across Africa by giving them access to affordable and sustainable transportation."

– Charlotte Ward, Director of Re-Cycle
The next container from Re-Cycle we send will be going to Village Bicycle Project in Ghana. Re-Cycle has worked with VBP Ghana for over 8 years, sending thousands of bikes and spare parts over these years.