Village BICYCLE Project, ghana
Village Bicycle Project aims to empower communities by strengthening bicycle culture. Our programs couple quality subsidized bicycles with hands-on maintenance training for new owners. We give village bike mechanics detailed training along with specialized bike tools and spare parts. This comprehensive, holistic approach ensures that bikes will be dependable, affordable and sustainable transportation. Women and girls, who are frequently marginalized, are specifically targeted for inclusion in programs which begin to address the gender inequalities that limit their access to bicycles.
VBP programs make cycling an attractive choice for entire communities, as improved mobility enables growth in productivity with better access to jobs, schools and healthcare, not to mention the environmental and health benefits of cycling.
Bicycles provide time-saving transportation that significantly increases access to income, health and education. Instead of hours spent walking with loads of vegetables for market, the farmer can cycle his goods in a fraction of the time. Students on bikes can use extra hours studying instead of trudging many miles to school, and mothers are able to carry children and supplies with substantial ease.
Ghana is considered one of the more stable countries in West Africa since its transition to multi-party democracy in 1992. Formerly known as the Gold Coast, Ghana gained independence from Britain in 1957, becoming the first sub-Saharan nation to break free from colonial rule. Gold, cocoa and more recently oil form the cornerstone of Ghana's economy and have helped fuel an economic boom. The country is named after the great medieval trading empire that was located northwest of the modern-day state until its demise in the 13th century.
We send 40ft High cubed containers packed with over 500 bikes and 100's of spare parts to our partner in The Gambia.  All the bikes and spare parts we send have been donated by members of the public in the UK.  Once a bike is received into our warehouse, we assess its suitability for Africa and if suitable our volunteers prep the bike to make it more compact. Once prepped it is categorised depending on its size and type. If it is unsuitable to send to Africa it will be stripped down for parts.
We have worked with VBP Ghana for over 8 years sending thousands of bikes and spare parts over these years.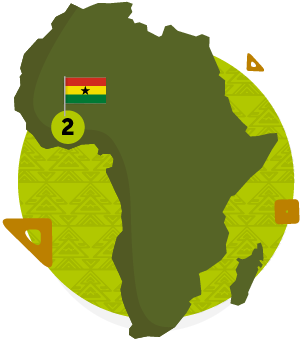 Capital: Accra
Population: 25.5 million
Area: 92,098 sq miles
Languages: English, Akan, Ewe
Major Religions: Islam, Christianity
Life expectancy: 64 years (men) 66 years (women)
Currency: Cedi
Re-Cycle has been working in partnership with VBP in Ghana since 2004
Since we started working with WYCE we have sent over 29,054 bicycles to Ghana.
YOU MIGHT ALSO BE INTERESTED IN