TRANSFORMING LIVES IN: the gAmbia
The Gambia is one of Africa's smallest countries and, unlike many of its west Africa neighbours, has enjoyed long spells of stability since independence. President Yahya Jammeh ruled the country with an iron fist after seizing power in a bloodless coup in 1994. His 22-year rule came to an end in 2016, when he was defeated in a shock election result by the main opposition candidate, Adama Barrow. Mr Jammeh only left office after mediation by neighbouring countries and the threat of armed intervention. Stability has not translated into prosperity. Despite the presence of the Gambia River, which runs through the middle of the country, only one-sixth of the land is arable and poor soil quality has led to the predominance of one crop – peanuts.
Tourism is an important source of foreign exchange, as is the money sent home by Gambians living abroad. Most visitors are drawn to the resorts that occupy a stretch of the Atlantic coast.
WYCE stands for Wonder Years Centre of Excellence, a well known project which has its home in the village of Madina Salam in The Gambia, West Africa. Their mission revolves around delivering essential services in Primary Health Care, Education, and Life Skills to the children and youth of The Gambia.
Our mission revolves around a close collaboration with our partners to efficiently schedule container shipments based on the availability of bicycles and suitable timing. These 40ft containers are meticulously packed with more than 500 bicycles and numerous spare parts. The selection of spare parts sent is determined both by our partner's specific needs and our current stock, which comprises entirely of donated items.
Upon arrival in The Gambia, our trusted partner, WYCE, takes charge of local distribution. A minimum of 25% of each shipment is directed towards schools, while the remaining bicycles and parts are made available to bike mechanics and small bike shops for sale. This sales revenue not only sustains our programs but also supports local businesses and promotes bicycle usage. 
The involvement of Re-Cycle bicycles has played a pivotal role in funding various initiatives. This includes a fundamental cycle-to-school program.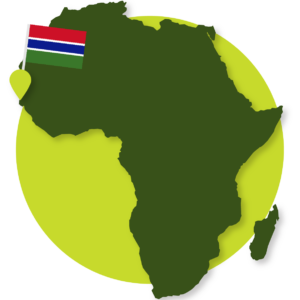 Capital: Banjul
Population: 1.9 million
Area: 4,361 sq miles
Languages: English, Mandinka, Wolof, Fula
Major Religions: Islam, Christianity
Life expectancy: 58 years (men) 60 years (women)
Currency: Dalasi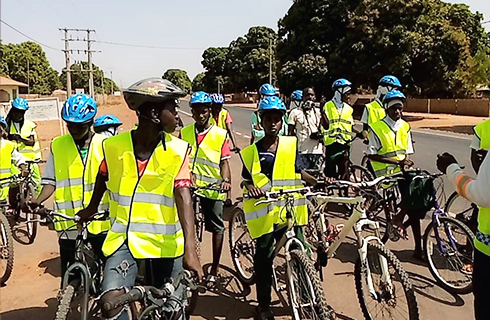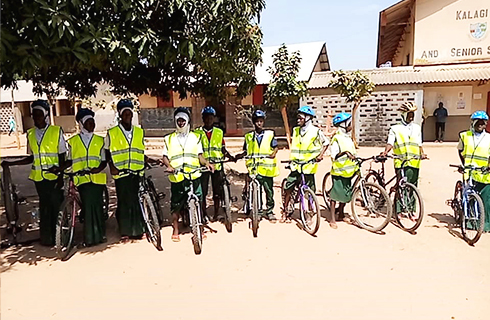 The Cycle to School Project
The involvement of Re-Cycle bicycles has played a pivotal role in funding various initiatives, including a fundamental Cycle to School program.
The "Cycle to School Bike Project." aims to improve students' overall performance by tackling the challenges posed by long commutes to school. Bicycles are distributed to students who face the longest journeys. This process involves close collaboration with school authorities, parents, and the students themselves to ensure that the bicycles reach those who need them most.
Each student partaking in the project attends a workshop focused on road safety and basic bicycle maintenance. Parents, in turn, sign a contract agreeing that the bicycle will be maintained and used by their child. A nominal fee of 100 dalasi (approximately £1.32) is paid by each family, for the cost of the bicycle, a helmet, and a reflective jacket. This financial contribution not only instills a sense of ownership and responsibility but also highlights the value of the bicycle within the family unit.
To assess the impact of the Cycle to School project and identify areas requiring additional support, a project coordinator is designated at each participating school. These coordinators gather essential data, including exam results and school attendance, which helps WYCE evaluate the effectiveness of the program.
Beyond addressing educational challenges, the initiative also contributes to the local economy. A local bicycle mechanic is trained and equipped with the necessary tools to provide affordable repair services. This not only creates a sustainable solution for bicycle maintenance but also fosters economic opportunities within the community.
By providing bicycles and fostering a supportive environment for students, The Cycle to School project is empowering young learners to overcome barriers to education. 
Re-Cycle is proud that the bicycles we send to The Gambia produce income towards WYCE's running costs, create opportunities for work and training and improve access to education for children.
Re-Cycle has been working in partnership with WYCE in The Gambia since 2013
Since we started working with WYCE we have sent over 15,000 bicycles to The Gambia.
YOU MIGHT ALSO BE INTERESTED IN