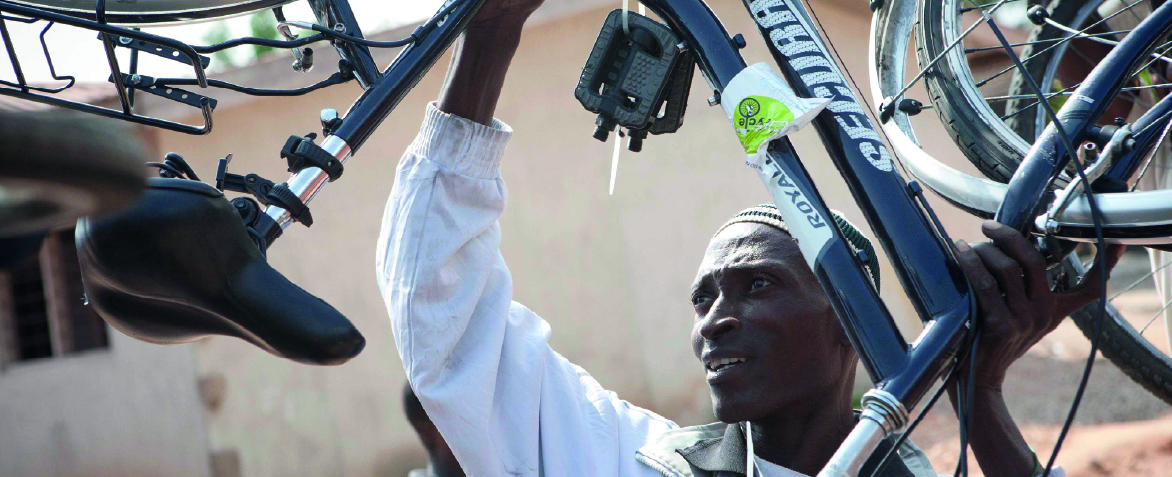 The story behind Re-Cycle
Merlin Matthews, otherwise known as Dr Bike from his days studying management at the London School of Economics (LSE). The title handed down through generations within the Student Union, describes an exceptional individual responsible for teaching people to fix bikes.
During his time at LSE, he was approached by a Haitian woman asking for advice about starting a bicycle factory. She explained the critical need for cheap, sustainable transport in developing countries. Understanding the power of a bicycle, and without hesitation, Merlin agreed to help.
Once his mind was on the task, he began to realise that rather than manufacturing new bikes, there were thousands of bicycles being thrown away which could be rescued and re-used.
Without further ado, he decided to establish a bike re-use project collecting quality bikes from the UK, with the aim of sending them to Haiti. He planned on running a workshop in Haiti to refurbish the bikes, and then train the locals in mechanic and maintenance skills.
Within a short time, the idea behind Re~Cycle was born, and all effort was spent fund-raising, organising bike collections and developing partnerships.
A significant development occurred when Merlin discovered that a US charity called the ITDP had been doing similar work in Haiti for 10 years. They were a non-profit organisation with extensive experience, and so Merlin decided to learn from them.
After a collaborative effort to send a container of bikes to South Africa, Re~Cycle and ITDP helped to set up an independent South African charity, Afribike, which delivered Phase I of the National Department of Transport's nationwide bicycle program, "Shova Kalulua" (Pedal Easy) setting up eleven workshops, with a focus on Kwa Zulu Natal and the Northwest Province.
Since 1998, Re~Cycle bikes have been shipped to partners and destinations all over Africa
The first Re-Cycle central bicycle storage facility was donated by Colne Housing Association, who had been waiting to develop a large warehouse. This was then followed by a National Trust barn in the countryside.
In 2006 a move to Colchester combined office space and storage, bringing great advantage and a massive increase in the number of regular volunteers.
Since 2015 Re-Cycle now occupies a permanent office, warehouse and central collections point in Wormingford, a few miles north of Colchester and offers over 90 bike drop-off locations nationwide, significantly increasing the number of bicycles that it's able to collect