Care Provider Foundation (previously Kaloko Trust Zambia) works with local partners and communities to improve access to enough food, water, health, education and income for some of the world's most vulnerable people, through effective, appropriate and sustainable development projects.
Care Provider Foundation have been working to relieve poverty in the Luansobe area of the Copperbelt Region in rural Zambia since 1989 and believe that long-term sustainable development can only occur where the issues that cause poverty are addressed through an integrated approach, harnessing the power of partnership.
Zambia, unlike most of its neighbours, has managed to avoid the war and upheaval that has marked much of Africa's post-colonial history, earning itself a reputation for political stability. The landlocked country has experienced rapid economic growth over the last decade as Africa's second largest copper producer after the DR Congo. But its over-reliance on copper has made it vulnerable to falling commodity prices. Zambia also has one of the world's fastest growing populations with the UN projecting that its population will triple by 2050. But economic growth and massive Chinese investment have failed to improve the lives of most Zambians, with two-thirds still living in poverty.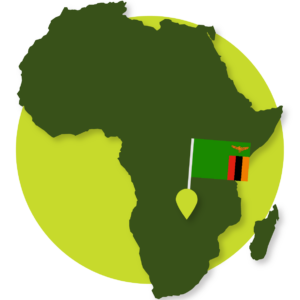 Capital: Lusaka
Population: 16.5 million
Area: 290,586 sq miles
Languages: English, Bemba, Lozi, Njanga, Tonga
Major Religions: Islam, Christianity, Hinduism
Life expectancy: 59 years (men) 64 years (women)
Currency: Kwacha
Re-Cycle has been working in partnership with Care Provider Foundation in Zambia since 2009
Since we started working with Care Provider Foundation we have sent over 18,794 bicycles to Zambia.
YOU MIGHT ALSO BE INTERESTED IN